Enter the gates of England's Medieval Festival and the world of 15th century England awaits. We do not portray a particular year but roughly the period of the 15th century; we are not a page but a chapter from medieval history.
Both peasants and town dwellers looked forward to the festivals and fairs that marked the important days of the year, be it holy days and holidays or the arrival of nobility, complete with court, to the town. Everyone took time off work to attend special church services, banquets and festivities. Merchants came from all over to buy, and sell their wares and to view the clowns, jugglers, musicians and acrobats and to sample the foods on offer.
For such an occasion how do you dress? In your finery of course! as you would adorn your home, shop or stall, so too should your dress be suited for the occasion. How you dressed identified you in the class system. The main classes were the noble class, (those holding a title, either hereditary or honorary), the middle class, (which consisted of lawyers, merchants and other "professionals") and the peasant class.
At England's Medieval Festival all participants are obliged to dress in medieval costume, making the event more enjoyable for the patrons and more successful for the participants. These pages have been written to assist and provoke the imagination into doing so. If in doubt about a costume ask!
The term 'entertainer' in relation to the Festival is a generic term. In other words it applies to everyone who has any part, BIG OR SMALL, at England's Medieval Festival. As actors, exhibitors, hawkers, hog roasters, stewards, ticket sellers or even security guards, it matters not, for you are 'ENTERTAINERS'............ THAT INCLUDES YOU!!
A hunt around in the wardrobe will no doubt bring about a few items that with a little imagination and effort can be transformed into medieval-style costuming. Long loose collarless shirts worn 'belted' with string or leather over long plain skirts, add a pouch for carrying your wares, a plain scarf wrapped over your hair and a pair of plain shoes or sandals and ladies you are already stepping back in time.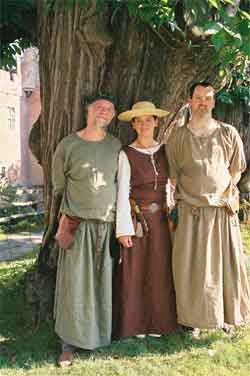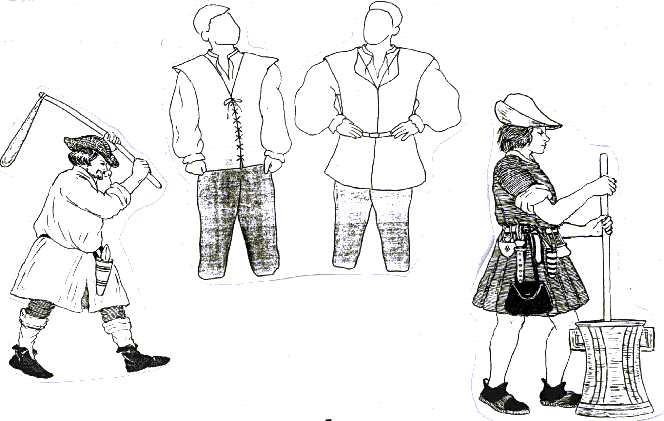 As the 'peasant' male generally wore breeches ill fitting trousers could be worn, with a string or leather wrapped around the leg from ankle to knee of course! There was seldom money or time to buy or make a lot of cloth at one time so one garment rarely matched the colour of another and since a peasant rarely had more than one outfit, it was not washed often and so would be well worn, patched and grubby. Jeans and T-shirts are definitely not suitable. Visit your local charity shop which is an excellent source of fabric and even ready made garments which can be quickly adapted.
As we climb the social scale in medieval England costumes and colours become more elaborate. Tunics long or short were donned by gentlemen, trimmed with furs and belted at the waist from which daggers or purses hung. Men wore tights or leggings of many colours.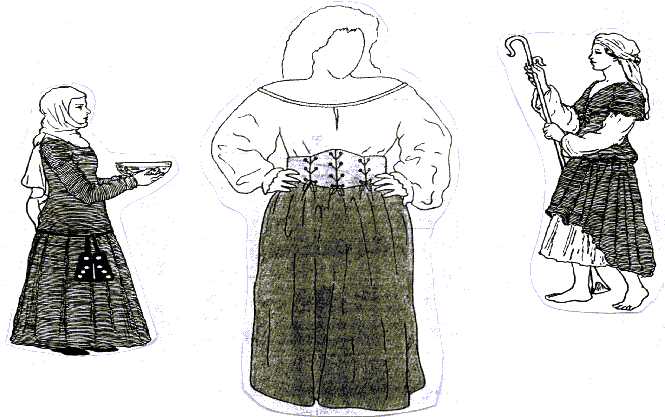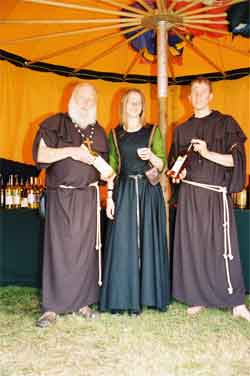 Ladies wore long gowns, again adorned with fine jewels and furs. Often a long plain under-garment was worn with a decorated low neck dress over the top. Once again a visit to a local second hand or charity shop could uncover the perfect outfit, remove the frills and with the addition of fake pearls or jewels, ladies you may take your place amongst the nobility! A visit to the nearest costume hire shop may also offer a few suggestions. Your local library will also supply reference books that will be a source of medieval inspiration:
For the more adventurous or those with a little more time on their hands fabric shops supply patterns found in the 'fancy dress' sections of pattern catalogues. You can then produce something to be worn for years to come.