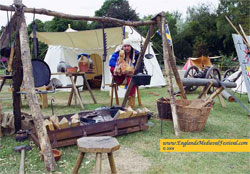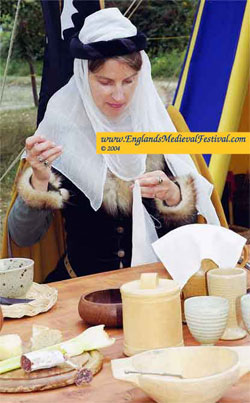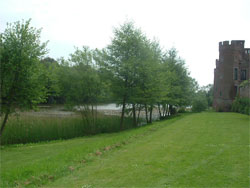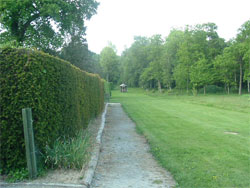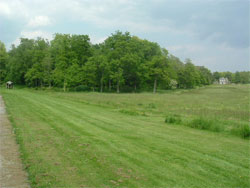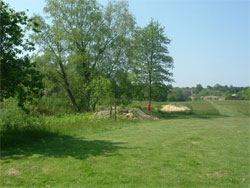 England ' s Medieval Festival Living History Competition
Each group should supply a single paragraph of text outlining what their period is and what their camp is representing. This MUST be clearly displayed by the camp or submitted to the judges in advance. The group application form on the Festival web site should be filled out and include this text.
Text should include:
Group Name (e.g. De Cobhams, Paladins of Chivalry, Riders of the Apocalypse, etc.)
Period covered (e.g. 1450-1485, 1400-1425, etc.) Note: if the period covered is too broad, e.g. 1066-1500 marks will be lost;
Nationality represented (e.g. English, French, Burgundian, etc.)
Group purpose (e.g. Men at arms - retainers for Lord Cobham; Mercenary gun company servicing a bombard; Mercenary archers, available for hire; Lords and ladies of the court; Itinerant traders, etc.)
Purpose of camp (e.g. Siege camp; Visiting a joust; Market and traders; Soldier's camp; Army baggage train.
Example:
Company of St. Barbara: represent a mercenary Burgundian gunners company, servicing a bombard from the period 1465-1485. The camp is a campaign siege camp.
All entrants agree to abide by the decision of the Judges which is final and must be respected.
Criteria One - Camp Layout (10 Marks)
Does it look like a camp or a collection of tents?
| | |
| --- | --- |
| 1 | Messy collection of tents, no central co-ordination, many separate fires, in search of an identity (lords tent next to rat catcher's hovel) |
| | |
| 10 | Camp matches description, is well ordered, and has a central cooking and eating place, has a marked route through it/past it for public to see all relevant aspects, has defences if it is a military camp, decorations if it is a festival camp, and has banners and flags to announce its identity. Matches the description submitted. |
| Points to consider: | Are there any geographic features which have made the camp layout difficult / more interesting? E.g. trees, slopes, bushes, banks. |
Points for:

Lose points for:

Central fire

Eating place

Camp defences/decorations

Camp layout

Use of banners / flags

Does it look like it claims to be on the description?

Messy layout

Lots of separate fires

No central eating place

Tents with their backs to the public
Criteria Two - Tents (5 Marks)
Are tents appropriate?
| | |
| --- | --- |
| 1 | Inappropriate tents, multi-coloured dyed tents, all closed so no-one can see within. |
| | |
| 5 | Individual hand made tents, Painted, open so that medieval insides are on display to the public. |
Points for:

Lose points for:

Medieval tents

Decorated tents (Painted)

Open tents with evidence of medieval beds / life within

Improvised shelters

Non-medieval tents (Viking tents, etc.)

Badly coloured tents (Fabric dyed or expensive colours bright orange, bright green, bright blue, black)

Closed tents
Criteria Three - Kit/Clothes (20 Marks)
What does people's kit look like?
Extra points should be awarded for babies/young children in medieval kit, but older children in bits of modern kit should loose points.
| | |
| --- | --- |
| 1 | Modern fabrics, modern shoes, piercings, modern dyed hair |
| | |
| 20 | Dressed according to their station, natural dyed appropriate fabrics, suitable jewellery, medieval turnshoes. |
Points for:

Lose points for:

Good kit

Turnshoes

Appropriate jewellery

Looking their station (A peasant woman would not be wearing silk)

Correct colours (Modern bright colours are not suitable)

Inappropriate jewellery (new age junk, piercings, earrings, tiger's eye)

100's of things dangling from the belt

Day-glow dyes

Synthetic materials

Dyed hair

Modern Make-up (nails painted etc.)

Modern glasses
Criteria Four - Interaction with the Public (15 Marks)
What are the people in the camp like?
| | |
| --- | --- |
| 1 | Backs to the public, ignoring them. Talking about inappropriate topics. Talking rubbish |
| | |
| 15 | Welcoming the public, and talking about aspects of the camp and medieval life |
Points for:

Lose points for:

Welcoming the public

Interaction with the public

Suitable explanation of persona (Why they are in the camp and what they do)

Discussion of aspects of medieval life

Explanation of the background of your household

Talking nonsense

Ignoring public

Talking about irrelevant aspects of modern life (e.g. football scores)
Criteria Five - Equipment & Furnishings On Display (15 Marks)
Medieval equipment / furniture around the camp
| | |
| --- | --- |
| 1 | Clearly adapted modern furniture / utensils, large piles of unused new items, massive duplication of items, inappropriate items (e.g. peasant would not have incense burning) |
| | |
| 15 | Evidence that what is on display is used, appropriate to the station of the people portrayed |
Points for:

Lose points for:

Appropriate medieval equipment on display

Medieval furniture on display

Medieval food / pottery / cooking utensils on display

Evidence that things are used/ have been repaired / reused  (A collection of items that look like a trader's stall does not look real, medieval people would repair and reuse everything)

Painted / decorated items

Inappropriate objects on display (e.g. peasant would not have incense burning)

Unused items on display (Medieval people would not have 200 pots, 5 flesh hooks dangling over their fire-place, or lots of duplicates. Remember they would have to transport it all.)

Non-medieval wood ware - Ikea plates, Mahogany bowls, composite bowls (stuck together without metal bands)

Items from the wrong period (e.g. Lewis chessmen)

Obvious plastic / resin items.
Criteria Six - Crafts & Skills (10 Marks)
This is difficult as anyone taking part in the battles would struggle to have time to set out their tools and start their craft before they have to pack up and kit up for muster.
Extra points should be awarded to anyone who does this, as opposed to just setting up a craft and not taking part in the battles.
This category should include things like medieval cookery (not just barbecuing something), aspects of medieval life (like fixing or polishing armour in a medieval manner) and playing medieval games with medieval game pieces.
| | |
| --- | --- |
| 1 | Obviously modern tools on display, or laying out tools and talking about them, not actually doing anything. |
| | |
| 10 | Creating something appropriate to the camp, using replica tools and discussing with the public. |
Points for:

Lose points for:

Demonstrating a craft

Appropriateness of the craft

Difficulty of the craft

Discussion of the craft with the public

Using well made replica tools

Modern tools/items

Modern Short-cuts

Carrying out the craft/activity away from the fence-line so the public can't see what's going on.

Not actually creating something, only talking through the processes.
Criteria Seven - Food & Drink (5 Marks)
What food is on display / being eaten?
| | |
| --- | --- |
| 1 | Modern foods on display, showing stickers; modern wrappings shown; tin cans or ice cream being consumed. |
| .. | |
| 5 | Only medieval foods are shown and eaten, food being cooked in the camp and eaten in front of the public. |
Points for:

Lose points for:

Medieval foods, dried meats, cheeses, dried fruit, fresh fruit, bread, pies etc.

Talking about food, what was available, recipes etc.

Modern foods e.g. bananas, pineapples, potatoes, tomatoes etc.

Fruit out of season e.g. strawberries, raspberries etc.
Note: an exception should be made for modern drinks as long as they are suitably disguised in medieval vessels (No fanta in a glass cup for instance). Also whole hams will often have modern hygiene/quality stamps, and are acceptable.
Criteria Eight - Bonus Points
Up to 20 Bonus points should go to any group who have done that bit extra.
If you think that you can improve on these rules or make a contribution to make them more fair then please forward you comments via email.